One of the new things that I have decided to do with this blog is to write about people, blogs, or ideas that I find inspiring. Not only do I hope to introduce others to these wonders, but it actually helps me to feel even more inspired when I write.
Today I want to introduce you all to a very lovely lady named Paula Prass. You can see a link to her blog, Show + Tell, on the right. I don't really remember how I first heard about Paula, it may have been through Heather Bailey, but I have come to admire her greatly! Paula is a designer, artist, and an all-round inspiring woman. If you go to her blog you will find links to her other websites/stores.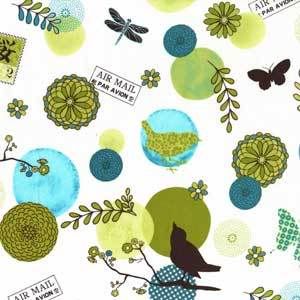 Now I will tell a little story that has to do with the above fabric. This is one of Paula's; it is Par Avion in Ocean. Last month I showed it to Alex online and told him how much I loved it. What do you think he did? He ordered me a few yards as a surprise! I think I may have the sweetest boyfriend in the world, he's pretty great. The fabric is even better looking in real life. I decided to contact Paula to tell her this little story, and also to tell her how much I love her blog. She got back to me within about 10 minutes I'd say and left a comment both here on my blog (on the Alistair MacLeod post) and an even longer one in response to my comment on her blog. I thought that that was very sweet of her.
This fabric has got to be one of the best designs that I've seen in a long time, and Paula actually has a few other items in her line (photo frames, note cards, etc) that coordinate and I've been thinking about getting a couple of things for myself. I will post a picture of what I sew with this fabric when it's done. Right now I'm thinking block quilt because I don't want to ruin the pattern of this fabric by cutting it up too much.
If any of you out there are in need of a little inspiration, do visit Paula's blog and check it out.